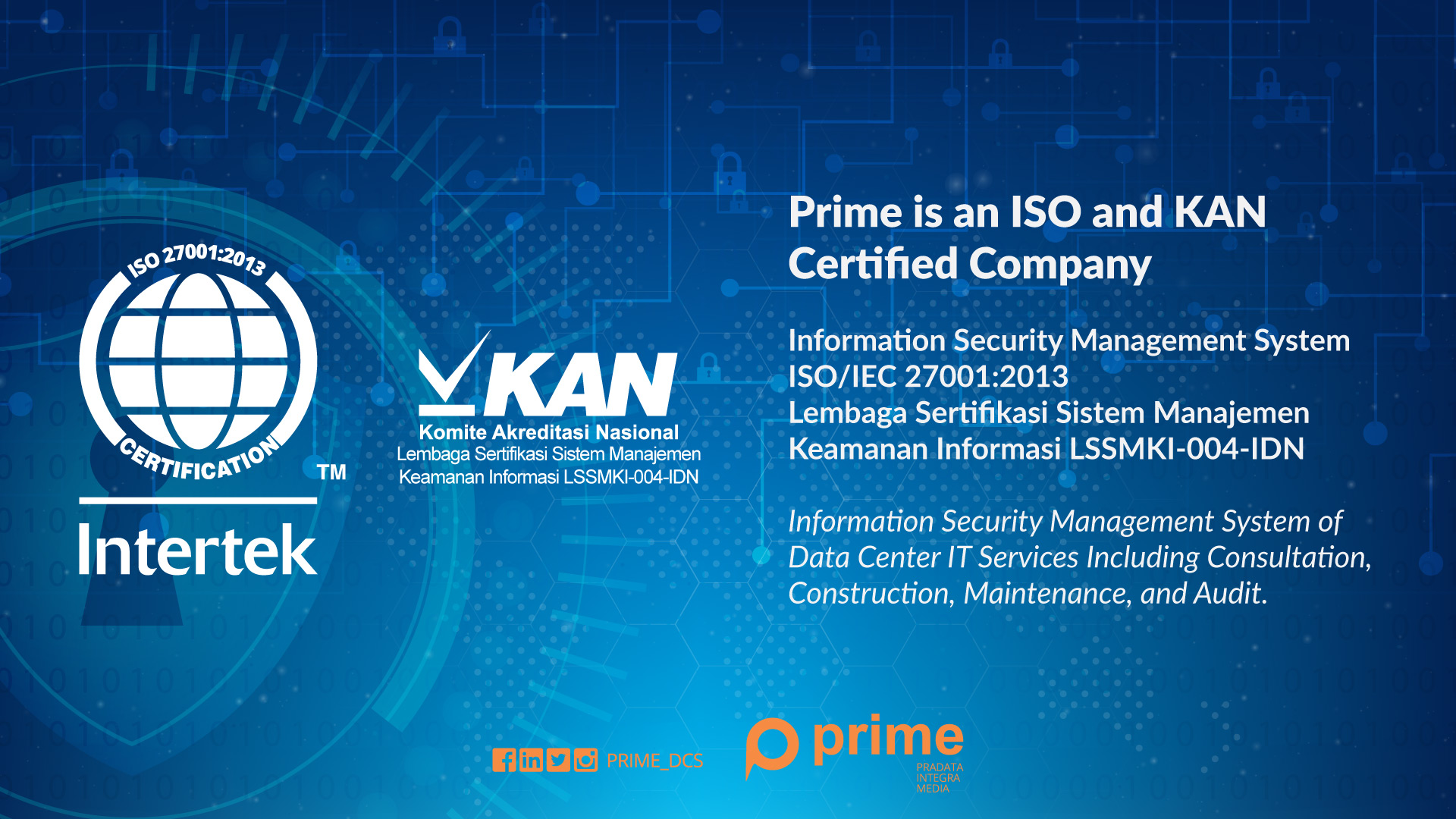 March 20, 2019 10:16 pm

|
PRIME Data Center Solution Ensures the Security of Client Data by Achieving ISO 27001: 2013
PT Pradata Integra Media, well known as PRIME Data Center Solution/PRIME DCS proves its commitment to protect and maintain the confidentiality, integrity, and availability of information and to manage and control our information security risks. As a data center service provider and solution company in Indonesia that builds critical data center facilities, we feel it is very necessary to guarantee the security of client information that we have. That is why we conducted a series of ISO awareness processes, internal and external audits. Finally on March 18, 2019, PRIME DCS was able to achieve ISO 27001: 2013 by an independent institution of external conformity assessment that has been trusted for more than 130 years in many companies in the world, namely Intertek.
ISO 27001: 2013 Certification obtained by PRIME DCS, namely "Information Security Management System of Data Center Infrastructure Technology Services including Consultation, Construction, Maintenance and Audit" for ISO 27001: 2013. This certification complements the ISO 9001: 2015 certification for quality management that we have received right at the DCS PRIME Anniversary in February 2019, with awards namely "The Provisioning of Data Center Infrastructure Technology Services including Consultation, Construction, Maintenance and Audit". The award is a marker of the PRIME DCS service series as the leading integrated solution and service provider in Indonesia that focuses on building a data center infrastructure. Our services include consulting, design, development, management, provision of IT infrastructure, migration / relocation, auditing and cleaning.
Implementation of ISO 27001 is our way of responding to our clients' needs and laws such as the Data Protection Act and potential security threats including personal data violations, cyber crime, misuse, data theft, virus attacks, infrastructure damage due to fire or other things. With this ISO 27001 certification, we guarantee a standardized system to protect our clients' most vital assets.
The Information Security Management System (ISMS) is a systematic approach to managing sensitive company information so that it remains safe. This includes people, processes and IT systems by implementing a risk management process. This can help any size organization in any industry keep business information assets safe.
With the implementation of ISO 27001: 2013, our clients will receive benefits:
We provide guarantees to clients that their personal information is protected and kept confidential.
Avoiding downtime with risk management, legal compliance, and awareness of potential threats in the future.
Understand how the requirements of laws and regulations affect our organization and clients and reduce the risk of facing demands and penalties.
Ensure information from customers, financial data, and intellectual property is protected from loss, theft or damage through a systematic framework.
Independent annual verification with internal and external audits of globally recognized industry standards.
We want to exceed compliance the qualifications of the procurement of data center development project services often require assurance of quality management standards and information security like this.
ISO security standards can help organizations handle a number of important issues in a variety of ways. Implementation of ISO 27001 helps ensure compliance with all applicable laws and regulations. Regular audits of ISO 27001 help you limit the possibility of violations by identifying which areas are most vulnerable. It also provides a good risk management information security framework.
We have provided an effective framework for identifying risks and threats, also establishing appropriate internal controls to minimize or even eliminate them. This is to ensure all authorized users get the information they need when they need it, while preventing unauthorized users from accessing personal or confidential data. This is done for increasing the trust and credibility of stakeholders and the recovery operation of our company in the event of a breach or other disaster.
We believe that many of our clients are governmental and private institutions with development projects or critical facilities development must have high expectations in terms of protecting their personal or sensitive information. The ISO 27001 standard acts as a blueprint for establishing customer-friendly policies and procedures that reduce the risk of breach of our company, helping to make customers feel comfortable. In the end, this is expected to further guarantee our professionalism in maintaining the information security of our clients.
---
Tags: contractor data center, data center service provider, data center solution, data security, ISO27001:2013, primedcs