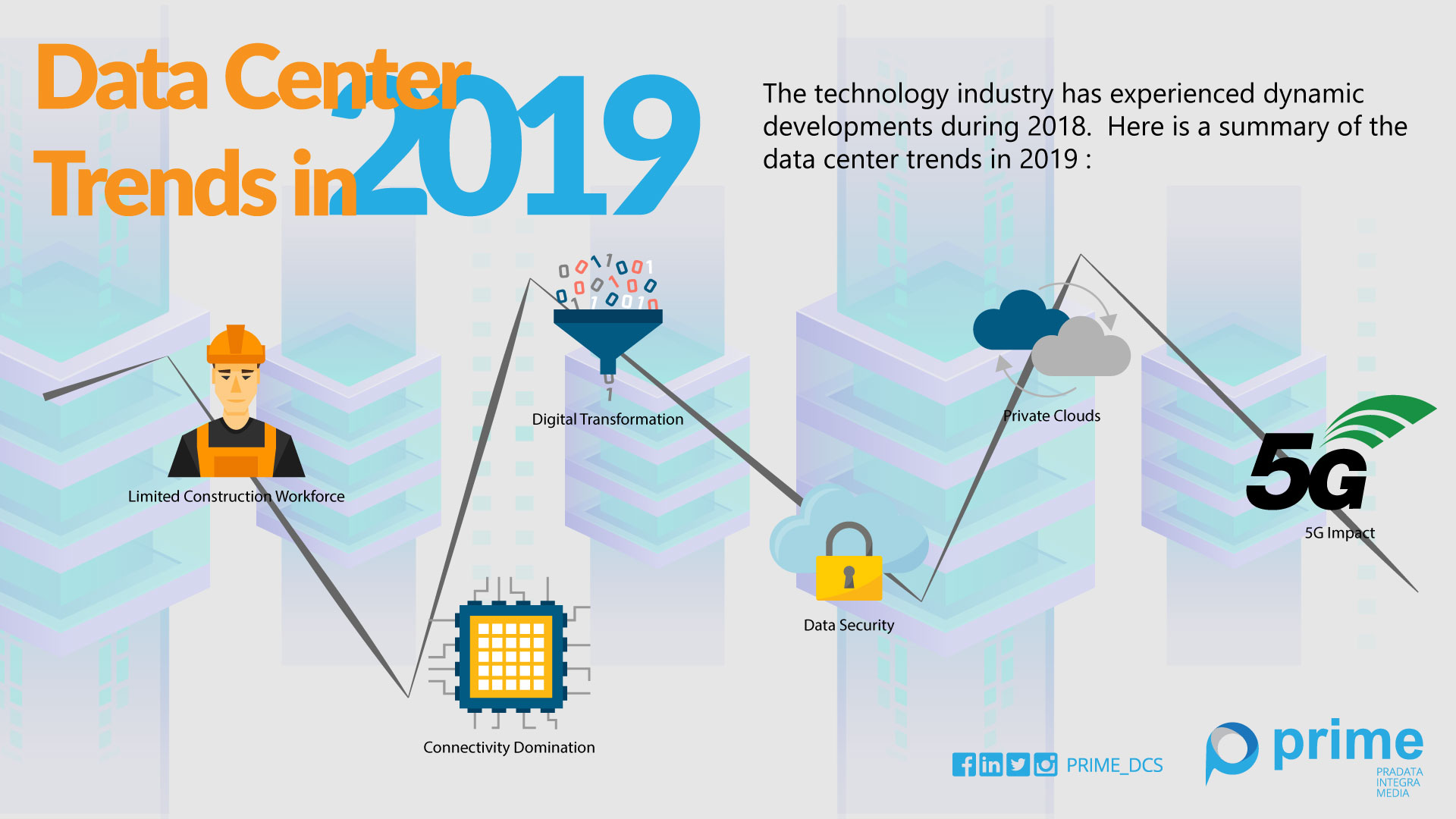 January 31, 2019 4:53 pm

|
6 Predictions of Data Center Trends in 2019
The technology industry has experienced dynamic developments during 2018. Many major developments such as 5G, data breaches, and the return of private clouds to consumer choices are at the center of attention in 2018 and will continue to develop in 2019. This year data centers that are fully generalized will become more common as other aspects of the building. In 2019 the community needs more features than just data centers in general, because the increasingly varied needs result in not meeting customer data center needs if it only relies on data centers that are designed in general. This is the things that will drive the data center trend in 2019. Here is a summary of the data center trends in 2019:
1. Limited Construction Workforce Triggered Data Center Innovation
The lack of professional construction workers has a serious impact on the launch of data for hyperscale services and similar collocation providers. This condition is expected to continue in 2019. This is exacerbated by the fact that construction is the only sector that has not shown an optimal productivity in the last 50 years.
But behind it all, innovation will continue from year to year and will increase in 2019. Innovation has been going on for years and will increase in 2019. To meet the increasingly challenging schedule, prefabrication will be further enhanced. A cooling unit outside the data center and UPS in one box is a good start, but the industry must take the next step. To overcome the problem of lack of workforce companies need to find a way to make a working strategy that is more effective by parallel while also gathering other workers to be able to meet demand in this digital era because technology development will continue to grow rapidly in this year.
Moreover, 3D technology will also be used as a monitoring tool while helping to track the progress of projects being worked on. Robots and automated technology are also expected to have an important role in 2019 but unfortunately this has not been widely encountered at this time, maybe in the next few years this new technology will be used in general.
2. The Role of Connections Becomes More Dominant
So far connectivity has become an important factor and has a big role in the development of data centers. But in 2019 the connection role will become more dominant. With the increasing need for greater data storage capacity (hyperscale) this certainly requires faster and more stable connection support. IT Hybrid and geographically dispersed data spreads have forced companies to rely more on connections. In addition, from the consumer side it will also be urgent to accelerate the pace of connectivity that exists because the internet has become a part of their daily lives.
3. Digital Transformation Encourages Technology to Be a Source of Profit
According to a survey from Accenture, so far only 13% of companies are aware of the benefits of their digital investments. This will change in 2019, where business and IT will be aligned and interrelated. By utilizing more IT, operational efficiency can be improved, more problems solved, and users can get a better and personal experience. Increasing productivity can be an alternative to cover the gaps in the industry and there are many other reasons that make IT will be seen as a source of profit making many companies are more concerned with business profits even though in a fraudulent manner.
4. Data Security Issues Will Appear More Often
Just as it happened in the previous year, this year the issue of data security hacking is mounting. With the acceleration of IoT implementation that makes a lot of new threats emerge from the side of data security. Moreover, according to the data recorded there are as many as 300,000 cyber security vacancies available today and it is estimated that by 2021 there will be 3.5 million positions to be filled. This will trigger the development and learning of AI and so the engine becomes important to detect vulnerabilities and violations. With the help of automated technology this helps cyber security professionals to eradicate more difficult problems that require special analysis. In addition, the government is expected to implement regulations related to the use of data this year to help address this issue further.
5. Private Cloud Takes Over The Market
IDC Survey states that private clouds take over the data that was previously stored in the public cloud. This is expected to continue in 2019 and make the hybrid market more balanced. This consideration is done because of the many issues regarding insufficient data security in the public cloud which makes consumers prefer to entrust their confidential data by creating a private cloud. This certainly leads to data center providers, with increasing demand from consumers who choose to build their own data centers making the data center market more dynamic.
6. 5G is Expected to Have a Big Impact on the Trend Data Center, but not in 2019
If indeed 5G will be launched nationally, this is expected to significantly change people's lives. With the incredible speed and capacity, technology which is currently only a dream can be realized. Starting from helping to accelerate smart city development in various regions to help the security apparatus in maintaining order and security in every corner of the city. But in reality, it takes more time to implement 5G on a national scale and the time is yet to come.
---
Tags: 5G, cyber security, data center 2019, data center innovation, data center trend, digital transformation, hyperscale, private cloud